Rochester's Best Pet Groomer
Furry Paws has been awarded Rochester's "Best Pet Groomer" since 2020! Pet grooming services & doggy day care available.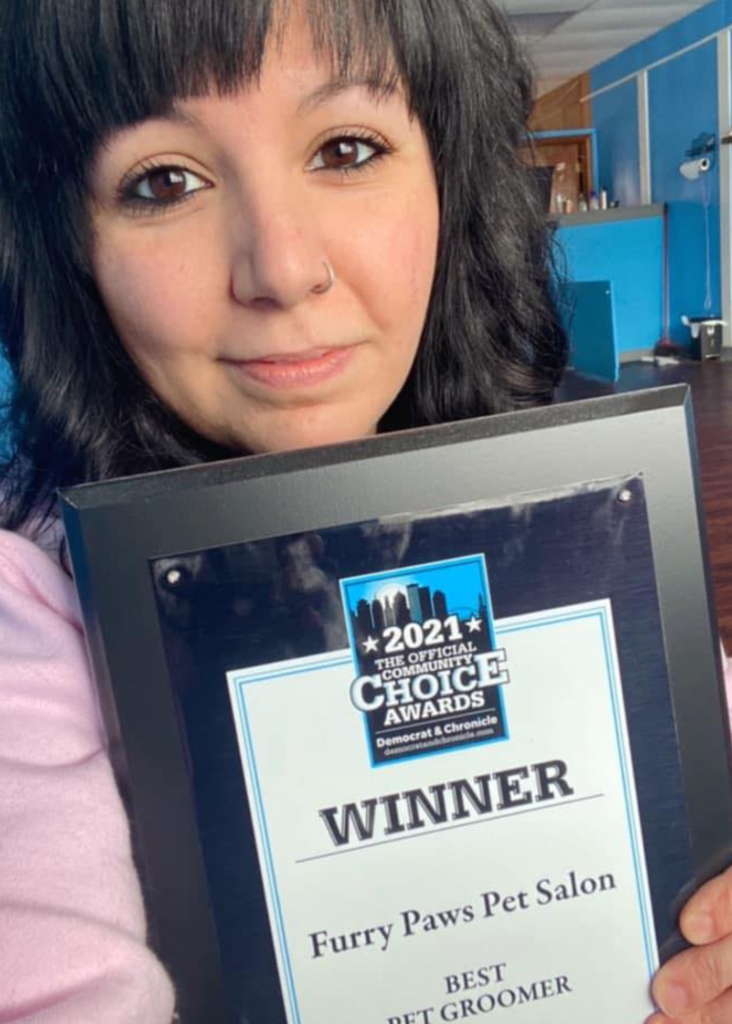 Your furbaby will be treated like family at Furry Paws.
Alanna Dalba, founder and owner of Furry Paws Pet Salon is a certified pet groomer with 15+ years of experience working with animals and has been a professional certified groomer since 2011. Alanna works hard each day to provide a safe, comfortable, and happy environment for each pet that walks through her doors.
On-top of her grooming skills, Alanna is trained in pet fist aid, she has experience working with hostile animals, and she has a deep capacity for caring for the most vulnerable of animals out there. Alanna runs a local nonprofit, Love for Misfit Meeps where she rescues disabled and abandoned cats in the Rochester area.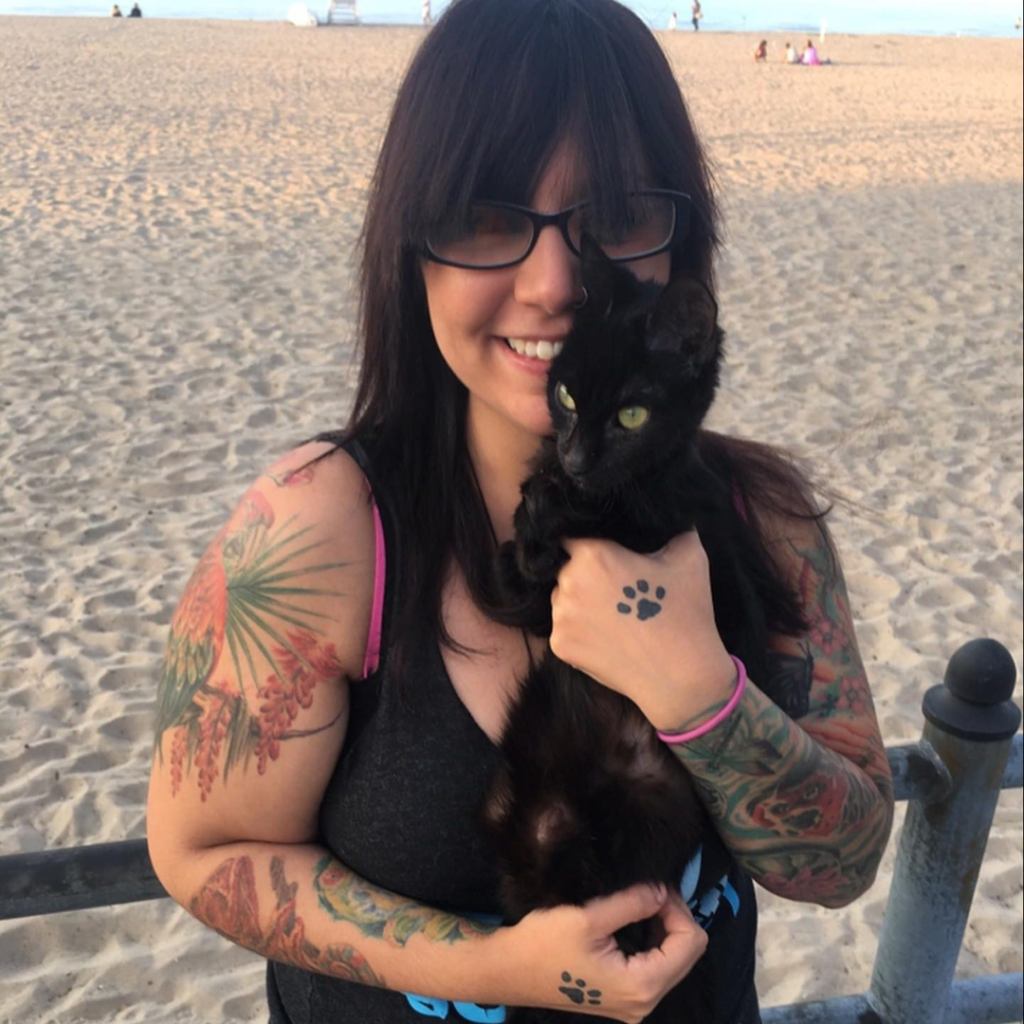 Alanna Dalba, Owner/Groomer
Alanna is founder and owner of Furry Paws Pet Salon and Love for Misfit Meeps, her nonprofit supporting disabled and disadvantaged cats in the Rochester area.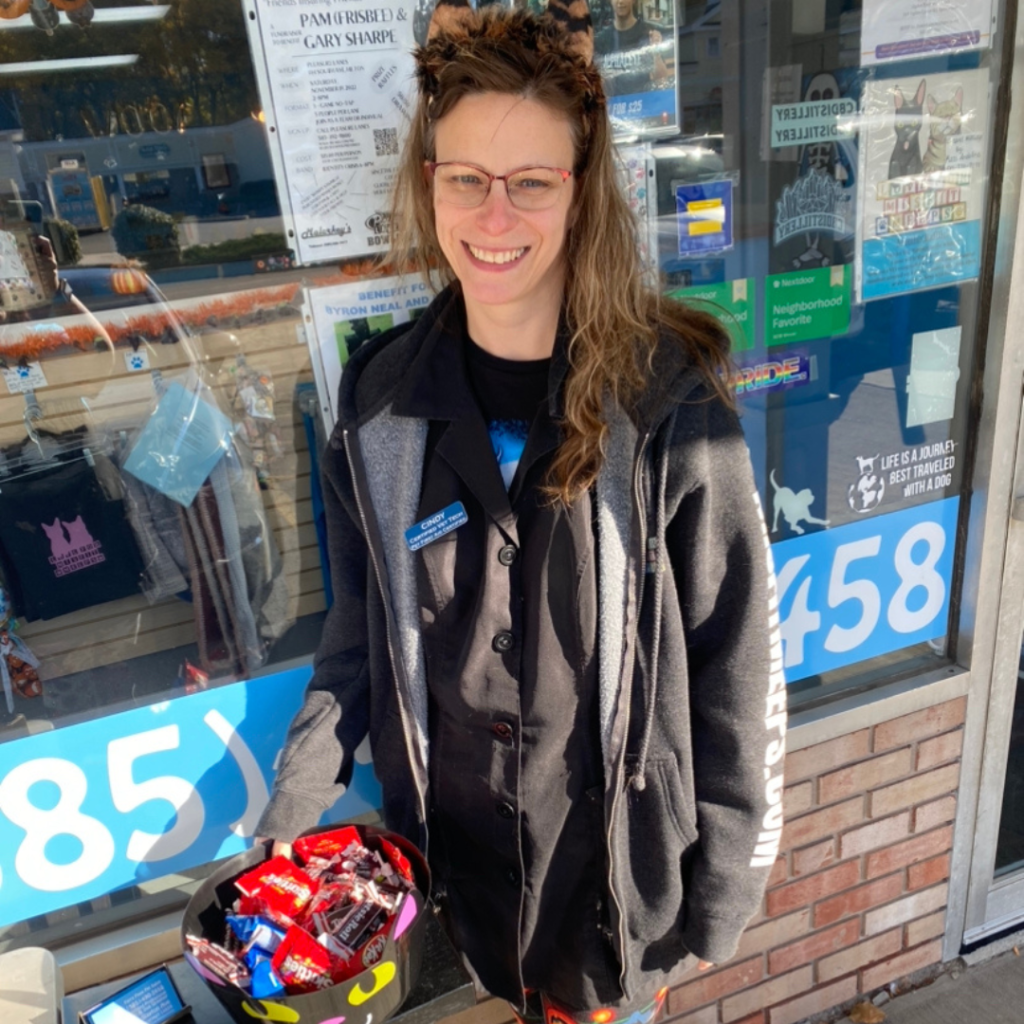 Cindy has worked as a groomer with Furry Paws Pet Salon for 4 years. She loves working with animals. Before working as a groomer, she worked as a veterinary technician for 12 years. She is pet first aid certified as well as a certified vet tech. 
She loves to spend time with her husband, her 4 cats and her dog, Coco (Furry Paws Mascot!) She also enjoys going for walks and watching Stranger Things and Cobra Kai. 

Kristine, Dog bather/Daycare Attendant
I am a bather/dryer/daycare attendant . I've always been passionate about animals, domesticated and wildlife. They make me happy. I love music, make up, tattoos and caring for animals. We have cats, dogs, fish and a bunny.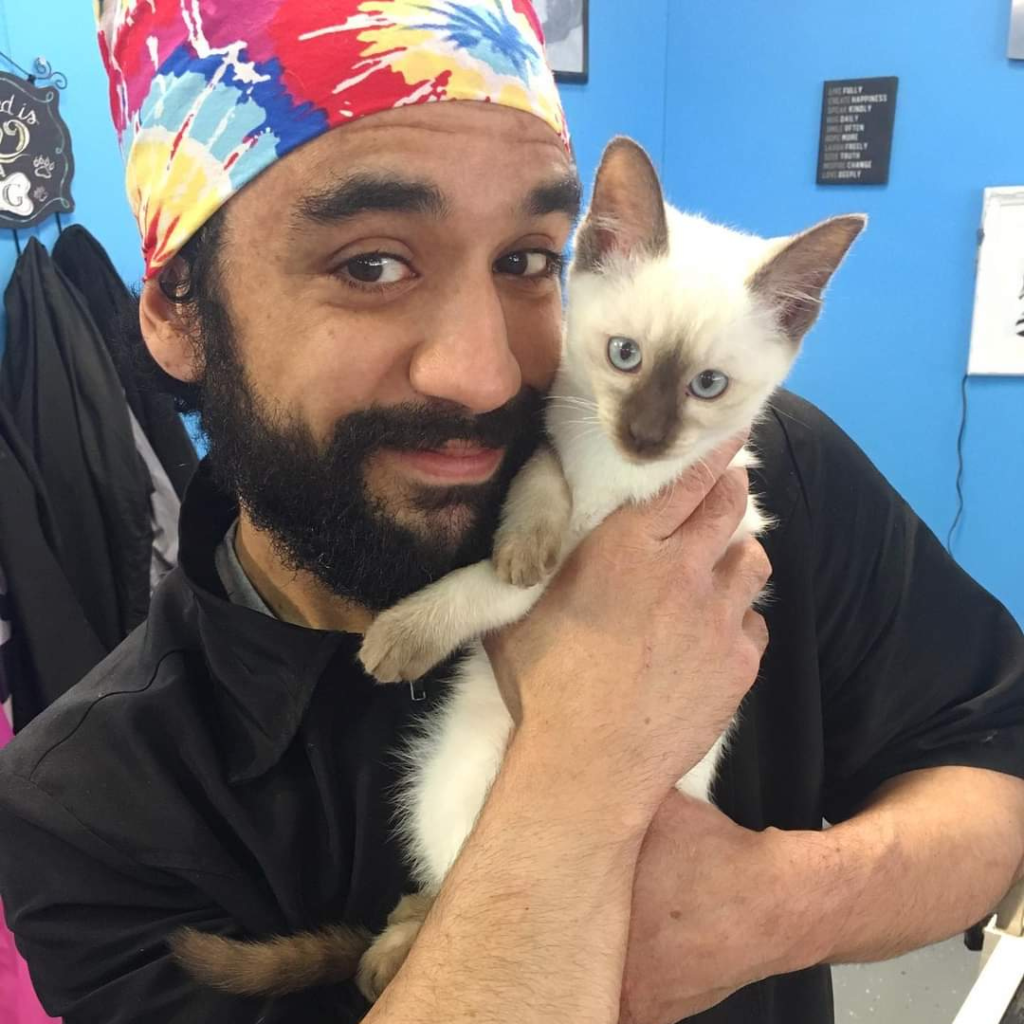 Vince has been with Furry Paws since 2015; and is primarily the daycare attendant (while also giving giving the occasional bath). Since childhood he has been an animal lover, caring for mice, cats, ferrets, and even a lizard.  When not at Furry Paws, you can usually find him on stage. Vince is a local actor in Rochester.  And not just with the furry ones; Vince has been an advocate for those who can't advocate for themselves. As a performance educator with Impact Interactive, he engages with companies and schools to encourage dialogue about social issues and promote understanding, through interactive theatre.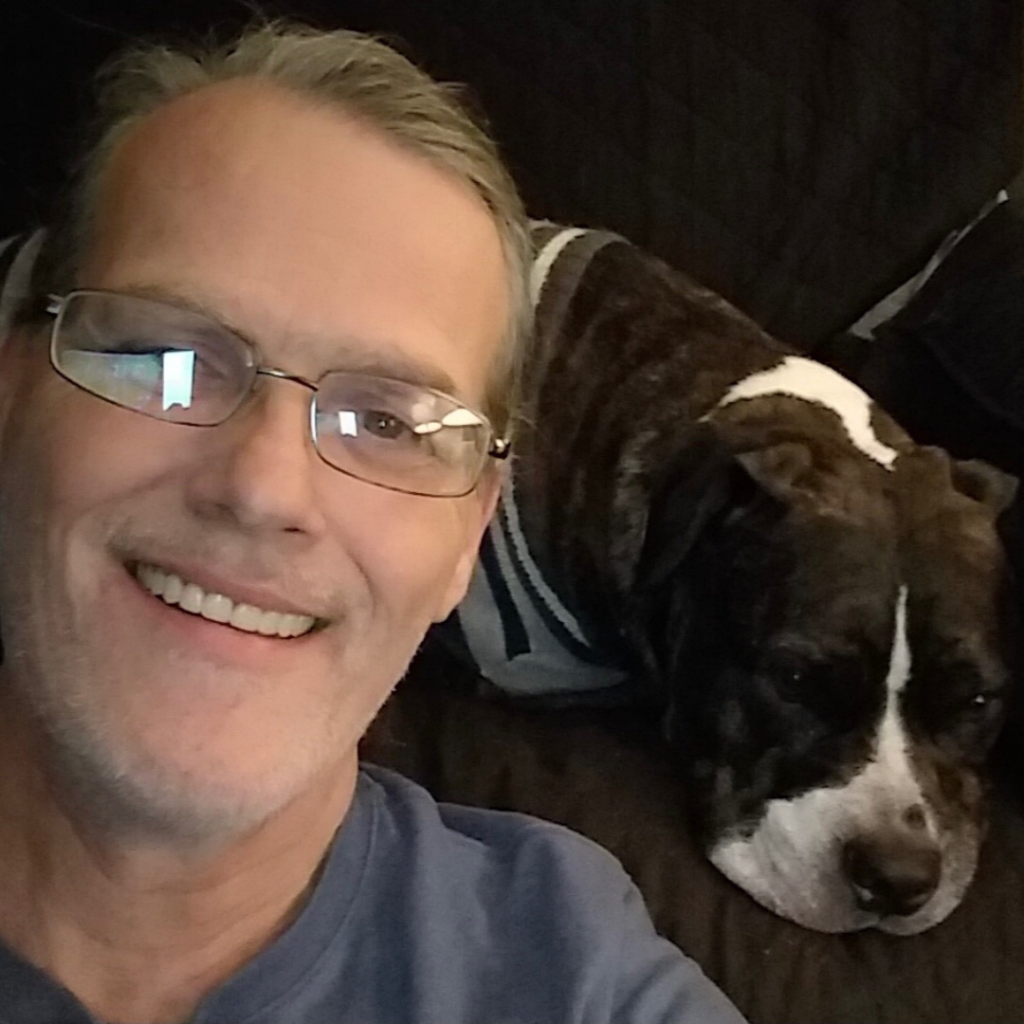 Hello my name is Joe Ford I joined the Furry Paws family August 16th 2022. I am a floater and my duties are to bathe, dry, take the fur babies to the bathroom and whatever I am able to do to help! I have always had animals my whole life. Montana is in the picture with me. We also have 4 cats & many others throughout our lives.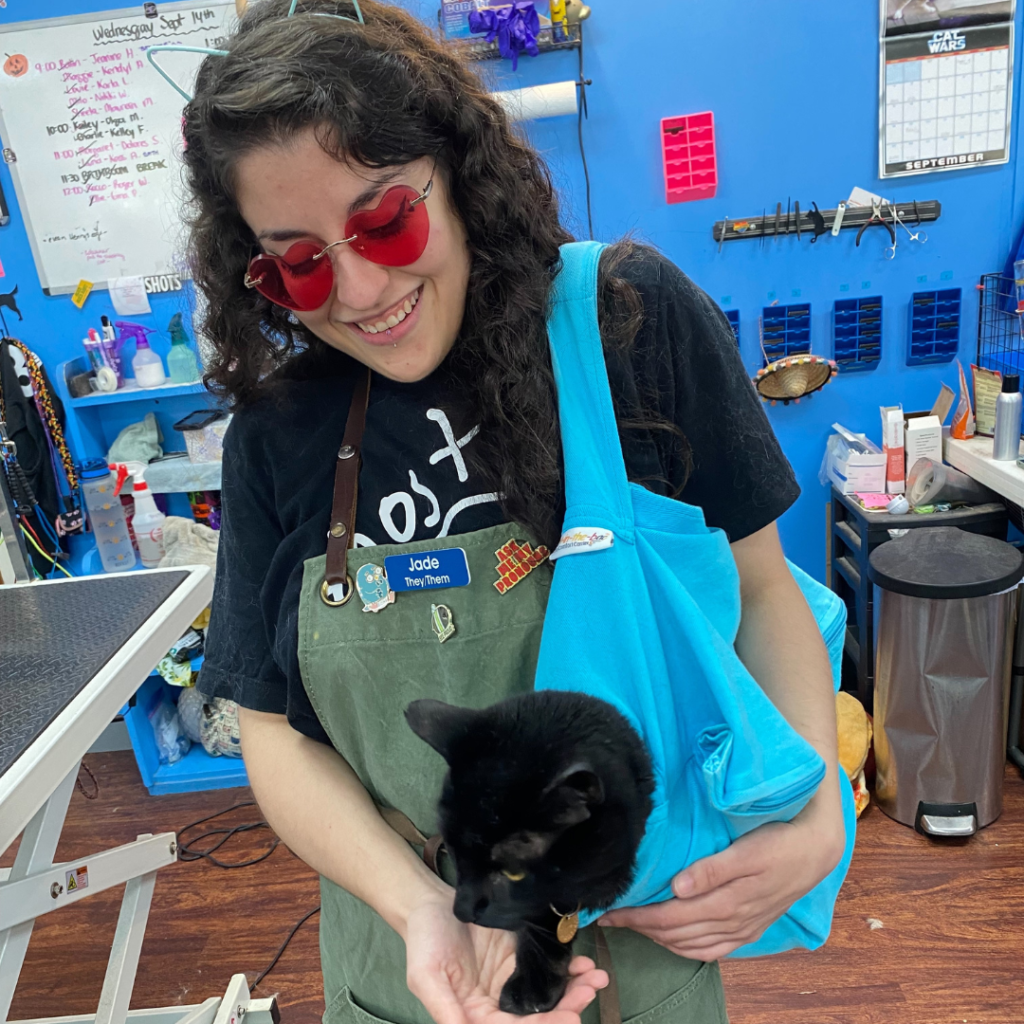 Jade, A Little Bit of Everything
My name is Jade (they/them pronouns please!) – I do just about anything except giving the haircuts! You'll typically see me doing reception, bathing/drying, obsessively cleaning/tidying, or expressing anal glands. While I don't have any dogs/cats of my own currently, I am the proud owner of 1.5 guinea pigs. Feel free to say "Hi" to our shop piggy, Henry, whom I lovingly fight for shared custody of with my fellow coworkers. I'm food motivated, rowdy, definitely the funniest one, and offbeat.
Happy Tails
We're grateful to create a safe, happy space for all our furry friends to come and get the care they need.